Venice By Boat: Spending A Serene Day Out On The Water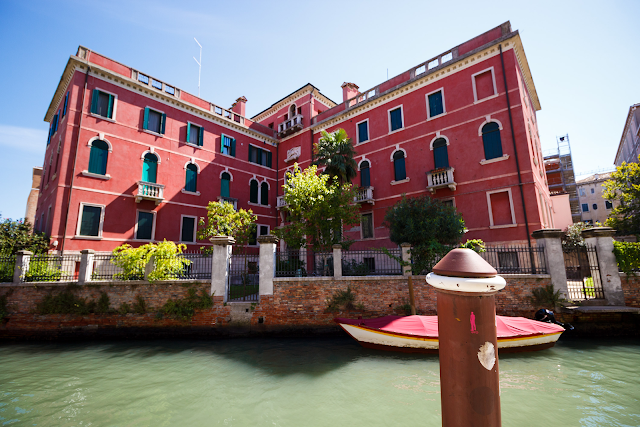 Wandering Venice's side streets; promenading its Grand Canal; losing yourself, often rather literally, as you try to navigate its historical centre—everyone visiting Venice should set aside both time and itineraries to explore La Serenissima at their leisure. On dry land is perfectly fine, but ideally with Venice, the wetter, the better. And if you want to get a true sense of the "City of Water," you really have to explore Venice by boat.
As you'd expect, the sinking city has no shortage of seafaring transport. From its sleek modern speedboats to its world-famous gondolas—all painted black after a seventeenth century law passed to curtail competition between the Venetian aristocracy over whose gondola was the fanciest—Venetians and visitors alike have at their disposal wealth of options when it comes to taking to Venice's waters and navigating the city and its lagoon.


Getting around Venice by boat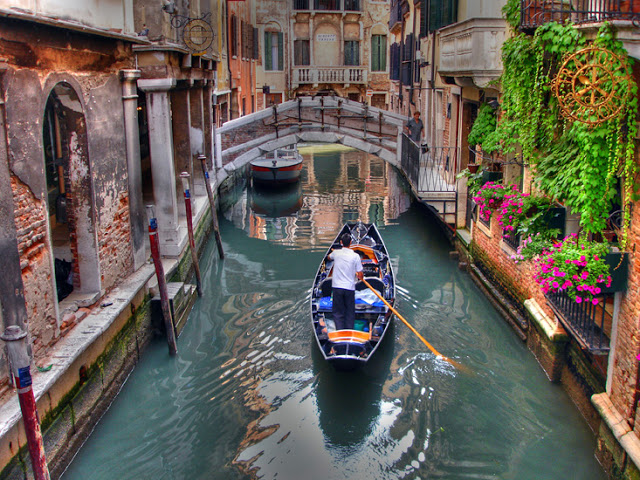 The first, and probably most convenient way of getting around Venice is to take one of the city's many water-buses or vaporetti. They might not be glamorous, but these vaporetti are the water-based workhorses, the lagoon-marooned hippopotami, of Venice's public transport system, circumventing Venice's periphery, cutting through it—admittedly at a snail's pace—along the Grand Canal, and connecting Venice's historical centre to some of the lagoon's farther-flung islands.

Single fares are steep, costing anywhere upwards from €5 for a two-stop hop to €15 for an airport return. Tickets can be bought from tourist offices, landing stages, and any shop displaying the ACTV sign. If you travel without a ticket, they won't make you walk the plank. But it'll land you in hot water with the Venetian authorities who'll sting you with a €44 spot-fine (perhaps making the plank seem the preferred option).
Even if you're just planning on visiting Venice for the day, your best bet is to arm yourself with a 24-hour travel pass (€20) which gets you unlimited travel around the city and its lagoon. Don't bother buying tickets for children under 6 because they travel always free. Youngsters between 6 and 29 qualify for—and would do well to acquire—the Rolling Venice Card with all its associated discounts.


Water-Taxis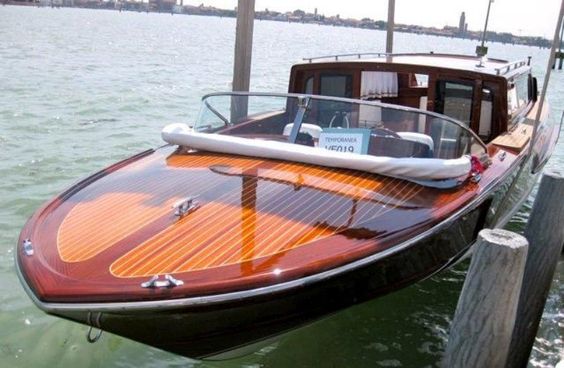 Short of owning your own boat, the best way to see Venice is by jumping (or climbing very carefully into) one of its many water taxis. These splendidly upholstered speedboats can either fly you around the Venetian lagoon in a flash or meander slowly along all but the shallowest of the historical centre's canals.

But prepare to pay the price for such an unforgettable experience. A short trip across the main island will set you back at least €40, and that's to say nothing of the innumerable surcharges—for extra people, for extra luggage, for rides after 10pm, for ordering one over the phone—they'll levy on you for the privilege.



Gondola Ride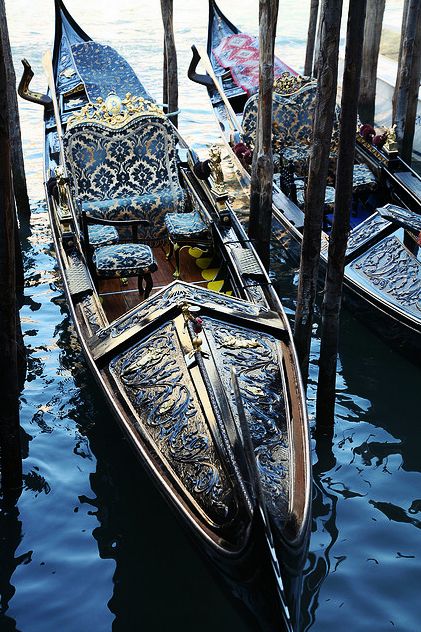 The final, most famous—and certainly most cliché—option is, of course, the gondola. Stitched firmly into the city's fabric since the fourteenth century, the gondola came to prominence in the wake of the ban of horse-riding through the city centre (a measure with sound logic when you consider that the medieval city too was both crowded and sinking).

First favoured by the Venetian aristocracy as a noble means of transport, gondolas later gained a reputation for scenes of illicit romances. Casanovas of the seventeenth century took full advantage of the gondoliers' discretion to take their lady love for what was, quite literally, a ride (after all, a good gondolier would never report what went on beneath its canopy).

Though passengers shouldn't expect anything more than cursory flirting from today's gondoliers, being guided through Venice's canals on one really is a memorable experience. Bear in mind, though, that it's an experience you'll be paying a fortune for too. Rides for up to six passengers can cost anything from €80 for 40 minutes, not including the price of the on-board tenor or accordionist should you want a soundtrack, or a narration of what you're looking at should you want a tour.

Establish the price before setting off and pay only at the end of the journey. Remember too that gondolas are only a local—that is to say mainland—option; no amount of bargaining is going to convince your gondolier to row you to the northern islands and back.
Things to see in Venice by boat
San Michele Island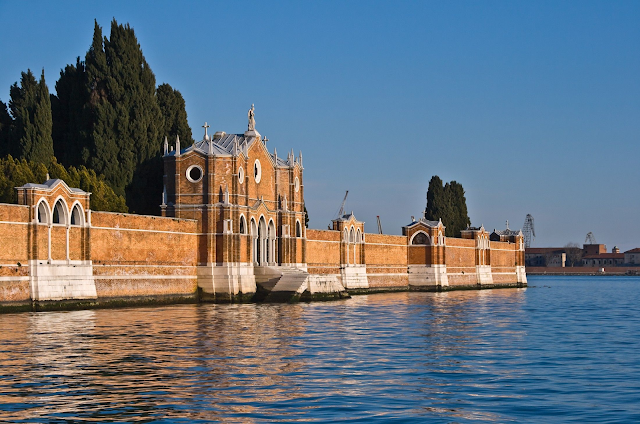 Photo credit: Pinterest
Visiting a cemetery might not sound like the ideal way of starting your day out on the Venetian lagoon. But not all are cemeteries are like the one on San Michele, which could well be the most beautiful necropolis in the world. To reach it, take the #41 or #42 vaporetti, which run every 20 minutes from either Fondamente Nove or one of the main island's other stops.

While the occasional group of tourists might visit the Island of San Michele, it needs to be stressed that it's not what you'd consider a tourist destination. The cemetery is still very much in use, visited by the friends and family of the deceased, and so as a matter of respect, without explicit permission photography is forbidden.

The cemetery's foundation can be attributed to Napoleon Bonaparte. Having invaded Venice in 1804, the big man of history passed a decree prohibiting the ad hoc burial of Venice's dead on the mainland. He certainly had a point. Weighing down a city built on wooden foundations could only spell bad news. And that's to say nothing of the threat of disease that came knocking whenever the aqua alta (high water) came lapping.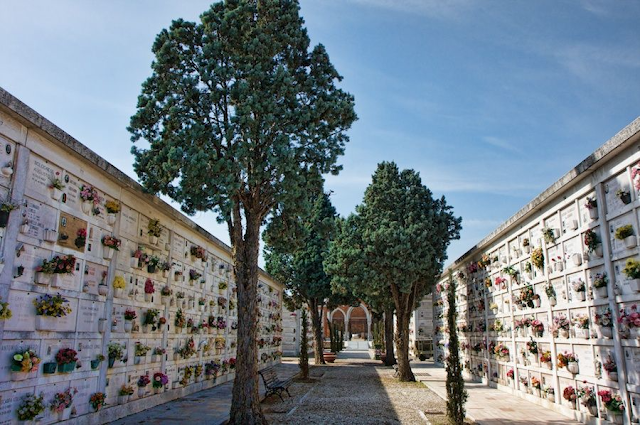 Photo credit: Pinterest
To realise Napoleon's vision, two separate islands, San Michele and San Cristoforo, were brought together to form the necropolis you see standing—or seemingly floating—before you today. And as all but the shortest of visits will make perfectly clear, even despite its vast sprawl, covering some 450 by 400 metres, space at the cemetery is at a premium.

Space is in such high demand on San Michele that, in 1995, the Venetian authorities passed legislation limiting the time Venice's late residents could remain on the island (10 or 20 years, or 99 if part of a family grave) before their relatives had to decide to have them either relocated or cremated.

Some work has been done to alleviate the problem. An architectural intervention in 2007 saw the addition of several extensions, increasing the cemetery's capacity to 80,000 pots. For an interesting read covering some more of its history and famous inhabitants, check out this piece published by the Venice Insider.


The Church of San Michele in Isola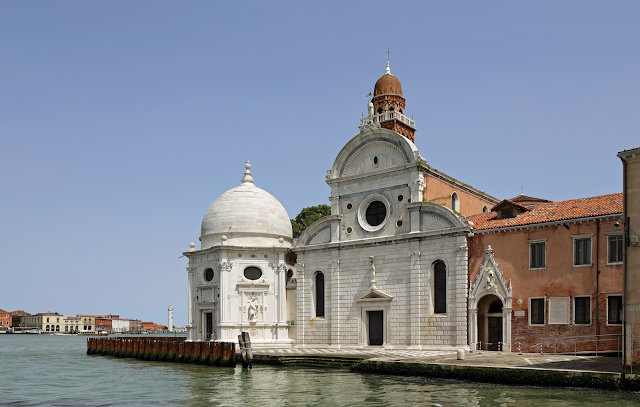 Photo credit: Wikimedia Commons

Dating to 1469, the Church of San Michele holds the distinction of being the first architecturally Renaissance building in Venice. It also produced some notable alumni: not least the fifteenth century cleric Fra Mauro, who can be credited with drawing up one of the most detailed world maps of the Middle Ages. The final product, which can be seen in its zoomed-out entirety below, is impressive enough as it is. What made the feat all the more impressive, however, was that Brother Mauro had never actually travelled the world.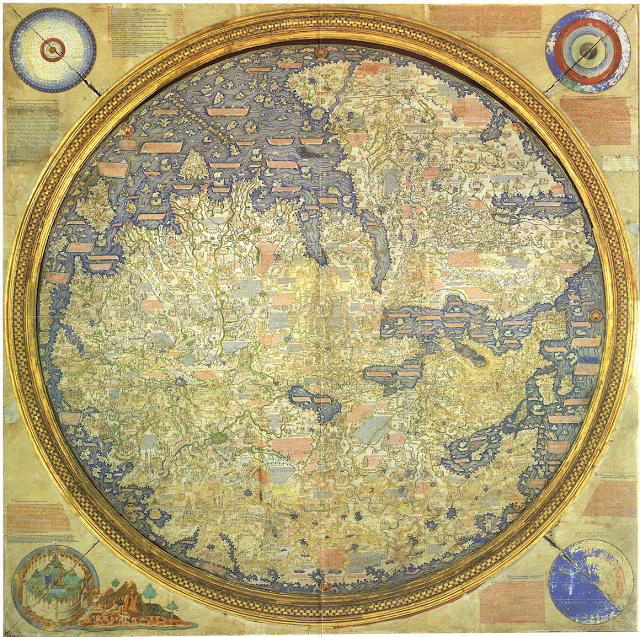 Photo credit: Public Domain
We can attribute his remarkable cartographical achievement to the countless hours of conversation he had with whichever of Venice's passing merchants he could accost. To his credit Fra Mauro, who had been commissioned in his endeavour by King Alfonso of Portugal, was the first European to recognise that Japan was an island, and that you could sail around Africa.

He did, however, lend a little too much faith to some of the more fanciful stories he was told, like the existence of lakes of gold and wine. Not that this this does nothing to diminish the scale of his achievement. You can see the map on display at the Museo Correr in St. Mark's Square.


Murano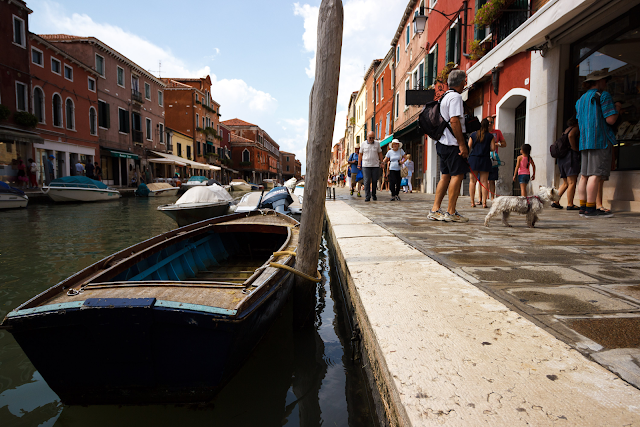 From San Michele, the next stop on the #41 or #42 vaporetto is the glass-making island of Murano. Testament to the historical skill of its inhabitants is that they were making spectacles all the way back in the fourteenth century and, as a single island, almost completely monopolised Europe's manufacturing of mirrors. Like the rest of Venice, Murano now rests on past laurels, as its glassware faces increasing, knock-off competition from parts of Asia and Eastern Europe.

Murano makes for a handy lunch stop. Seafood, as you might expect, is the name of the game. And one restaurant that stands out above all others (which I discovered thanks to my handy Pocket Rough Guide) is Busa alla Torre. Widely regarded among Murano's islanders as being the best in the business, its set lunch menu is under €20 per head—an absolute steal if you consider the fresh fish on offer, well washed down with a glass, or two, of prosecco.
From Murano you want to take the #LN (Laguna Nord) vaporetto that takes you to on the scenically stunning half an hour trip across the lagoon to the pastel coloured, lace-making island of Burano. Burano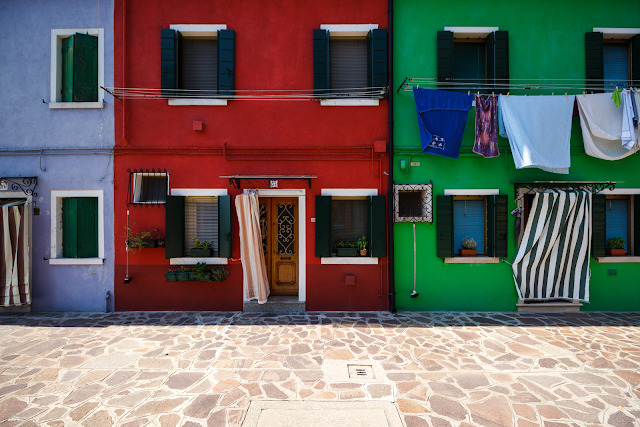 The first time I ventured out to Burano—and to San Michele and Murano for that matter—was back in 2012. It was the beginning of February, one of those bitter cold but sunny winter days rarely seen back in rainy England. Embracing my inner Brit, I braved it in a t-shirt.

One detail from the trip stands out above the rest. It's not the charming pastel-coloured houses, which have now come to characterise every picture postcard image of Burano (see above), that greeted us as our vaporetto docked. Nor is it the relaxing second glass of prosecco I sipped on out in a small piazza beside one of the island's quaint, quiet churches. The detail that stands out most was the incredible panoramic view from the northernmost point of the island.

Looking out across the lagoon, beyond the superimposed island of Torcello, you could easily make out the snow-capped peaks of the Alps stretching on and on way out in the distance. They were sublime, clear as day; undistorted by the heat haze that descends and obscures the lagoon during every Venetian summer.

All I could hear beyond the distant murmur of tourists was the squarking and chirping of seagulls. All I could smell was the salt from the lagoon in the air. It will long stand as one of my fondest memories from my time in Italy. And if you're even remotely considering venturing out to Burano during your day on the Venetian lagoon, it's an experience I couldn't recommend highly enough.


Cruising the Grand Canal of Venice by boat
After exploring the northern islands of St Michele, Murano, and Burano, the perfect way to wind down your day is to take our Venice evening boat tour. After a relaxed walking tour around the outside of St Mark's Square, the Bridge of Sighs, and the mercantile Rialto neighbourhood, our private boat will take you down the Grand Canal, meandering its two and a half mile course while letting you admire the renaissance era palaces that line it as they should be admired, from the water.

When to visit Venice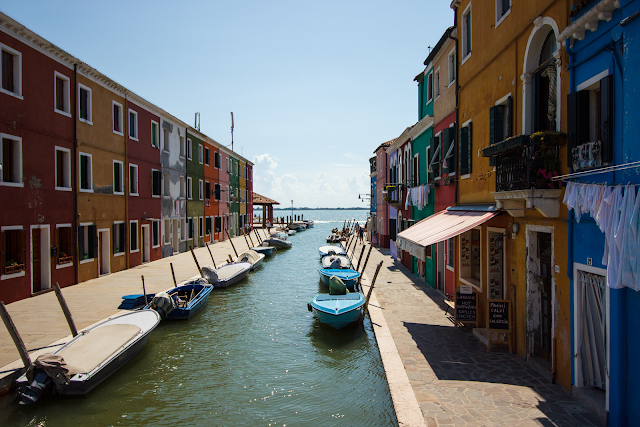 If it's a seafaring spectacle you're looking for and you don't mind braving the crowds, you should aim to be in Venice for the first Sunday of September when the city plays host to its annual Regata Storica. Kicking off proceedings is the regatta proper whose participants, decked out in period dress, re-enact the dramatic return of Caterina Cornaro in 1489.

Following this area a series of events that pit the strength and skill of Venice's competitive rowers and gondoliers against one another as they race up the Grand Canal. Starting with the Venetian youth, the day culminates with the eagerly anticipated gondoloni—the men's race.

May is another great time to visit, particularly the second Sunday after the ascension during which Venice's waterways open up for the Vogalonga. Originally organised back in 1974 as a protest against the number of motorboats swamping Venice's canals, the Vogalonga has grown exponentially to become one of the city's most prestigious rowing races.

It's a gruelling 20-mile course, covering much of the northern lagoon from San Marco to Burano and back. But it's a good-natured affair, open to all levels and, lasting from the best part of the morning to the best part of the day (depending on the ability of the participants).


Roman Candle Tours in Venice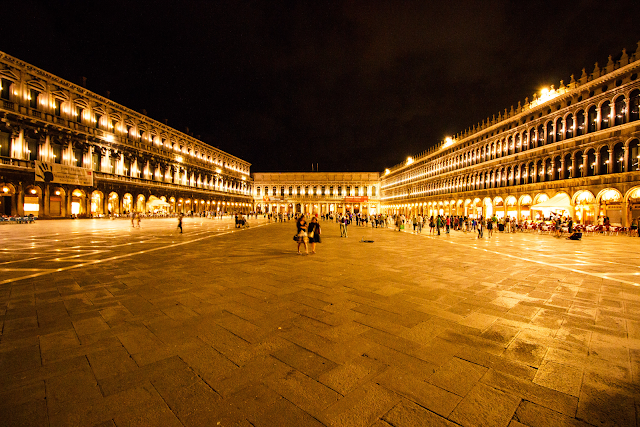 We, at Roman Candles Tours, are experts when it comes to the city of Venice. That's why we can't recommend enough that you set aside some of your time here to explore Venice by boat. We've written this list in the hope it might give you some ideas for your trip here, but if you think we're missing something, or if there's something specific you're itching to see, do get in touch.

Get in touch with us today and we'll be happy to go through any ideas you might have for what you want to get out of your holiday in Venice. If one of our existing tours of Venice doesn't quite float your boat, that's no problem. We'd be more than happy to personalise your experience by building with you one of our tailored tours of Venice.