BERNINI'S ART IN ROME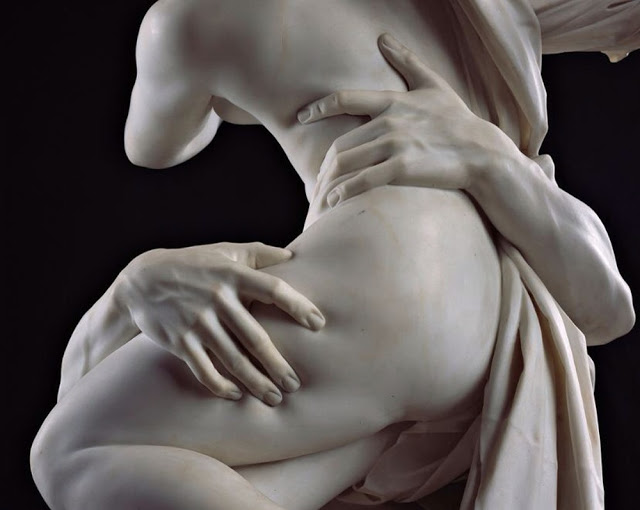 Born in 1598 in

Naples

,

Gian Lorenzo Bernini

became the most iconic sculptor of the seventeenth century. Working most of his life in

Rome

, the center of European art at the time, Bernini pushed the art world into the intense, emotional

Baroque style

, after the more classical Renaissance style, which had dominated the art world for three centuries. Baroque artists, like Bernini and the celebrated Italian painter

Caravaggio

, captured more life, movement, and emotion in their subjects. While

Renaissance artists

, like Michelangelo, Raphael, and Leonardo da Vinci, perfected techniques like

perspective

and symmetry, the Baroque artists wanted to capture more genuine feelings, innate drama, and universal humanity. In true Baroque style, Bernini's sculptures were relatable, physical, fluid, and above all else, emotionally powerful.
Sculpture was Bernini's preferred art form. He had an innate ability to capture movement,

expressions, a

nd the essence of people and natural

phenomena.

Bernini also drew and painted well like other traditional artists, and was a talented architect, designer, playwright, and producer. He was a true multimedia artist and significantly ahead of his time.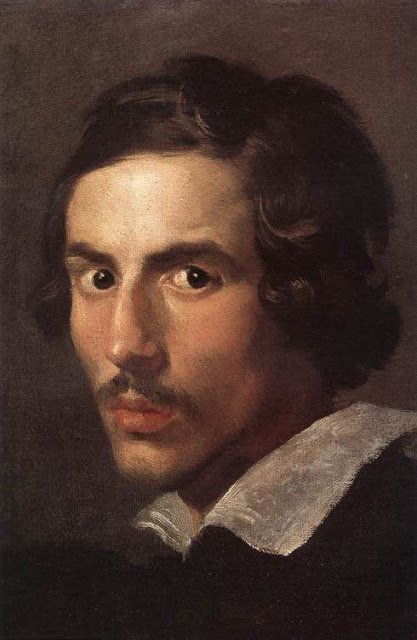 As a young artist in Rome, Bernini befriended powerful people, who in turn admired him and funded his work. By the end of his career, he had served eight popes and sculpted the busts of six of them, which was considered a great honor.

Bernini

was determined to leave his mark throughout 'The Eternal City' and so he did, scattering his work throughout

Rome

's

piazze

, bridges, churches, museums, and palazzi. His close friend and patron, Pope Urban VIII wrote,

"

Rome was created for Bernini and Bernini was created for Rome." Bernini wanted to fill Rome with a mesmerizing beauty and vitality that captivated people and evoked massive feelings fit for such an epic city.
A Young Boy's Artistic Talent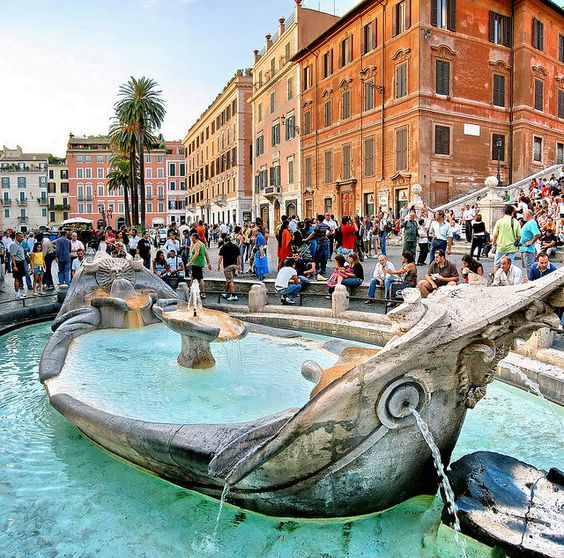 With a father from
Florence
who was also an artist, Bernini grew up in a family of creatives. Pietro Bernini specialized in sculpture too and often allowed his son to work with him. In 1605, seven-year-old Bernini traveled to Rome and helped his father with a sculpture. As a young adult, Bernini continued to collaborate with his father. One piece they worked on together was the
Fontana della Barcaccia
(1627), or Fountain of the Sinking Boat, which depicts a whimsical boat overflowing with water. It lies at the foot of the Rome's Spanish Steps.
Soon after the Bernini family moved from Naples to Rome, the young prodigy's artistic talents captivated artists and people in power. Eight-year-old Bernini drew the attention and admiration of Pope Paul V, who was shocked by the young boy's talented drawings. As he grew up, Bernini continued to perfect his skills and work hard. He studied Rome's impressive collection of art, especially

ancient Greek

and Roman

art, and particularly enjoyed the marble pieces in

the Vatican

.
Sculptures under Cardinal Borghese's Patronage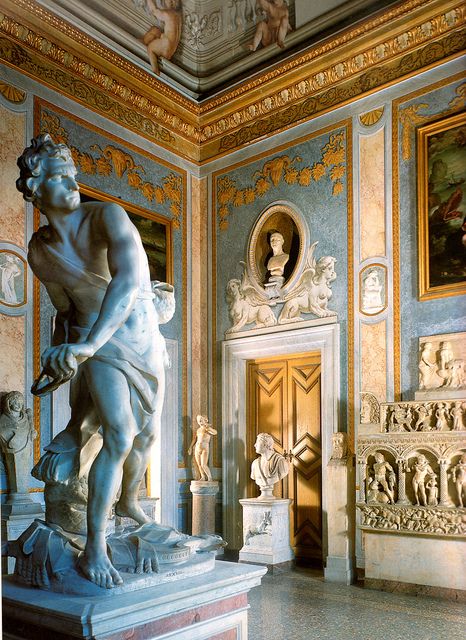 In the early days, Bernini was also admired by
Cardinal Scipione Borghese,
who was the Pope's nephew. From 1618 to 1624, Bernini primarily worked for the Cardinal and with his help, Bernini was able to start the foundation of an illustrious career in Rome.
Under the Cardinal, Bernini created sculptures, such as

Pluto and Persephone

(1622), Apollo and Daphne (1622-1625), and the life-sized statue of David(1623-1624). In the second, a fleeing Daphne flaunts incredibly dainty leaved fingers, carved with the utmost care, as she tries to escape the advances of Apollo. Bernini's majestical, stone-slinging David (1623-1624) juxtaposes Michelangelo's pristinely poised statue of David (1501-1504) from the Renaissance era. Michelangelo's classic David, found in Florence's

Galleria dell'Accademia

, stands stoically before battle, while Bernini's David, depicts the man's utter strength and physicality in the midst of battle, as he launches the stone that kills the deadly giant.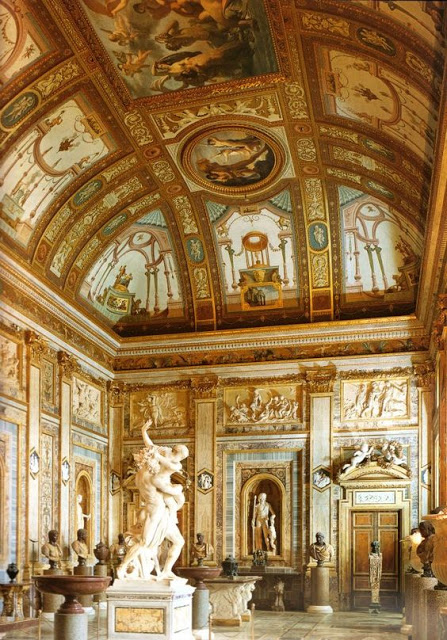 These early pieces can be found in the
Borghese Gallery
, which was the Cardinal's breathtaking home,
Villa Borghese
. Other pieces by Bernini in
Galleria Borghese
include the immense bust of
Cardinal Scipione Borghese
(1632) and
Aeneas, Anchises, and Ascanius Fleeing Troy
(1619), which Bernini completed with this father. The gallery also houses many of Caravaggio's paintings.
Pope Urban VIII as Bernini's Beloved Patron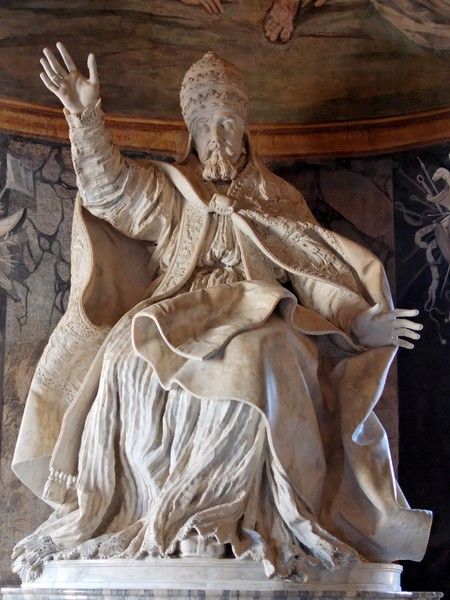 By the age of twenty-five, Bernini was a friend and beneficiary of Pope Urban VIII. Bernini was a devout Catholic and believed that religious art should evoke emotions that encouraged wonder, faith, and understanding. Pope Urban VIII desired a 'Michelangelo,' an artistic genius to dominate the seventeenth century, like Bernini. He described
Bernini
as
"
a rare man, a sublime artificer, born by divine Disposition and for the glory of Rome to illuminate the century." The Pope believed Bernini could bring honor to Rome and ensure that his papal duty as supreme patron of the arts was fulfilled. With the Pope's backing and encouragement, Bernini had his most productive and creative period during the twenty years that Pope Urban VIII was at the helm of the Catholic Church.
Bernini

's astutely regal sculpture of Pope Urban VIII from the 1630s is now a part of the permanent collection of in the

Capitoline Museums

. The collection also has the marble carving of Medusa from the 1640s, where Bernini skillfully depicts her desperation and lively, snake-filled hair. Both pieces are in Rome's

Palazzo dei Conservatori

.
Bernini's Fountains and Obelisk Designs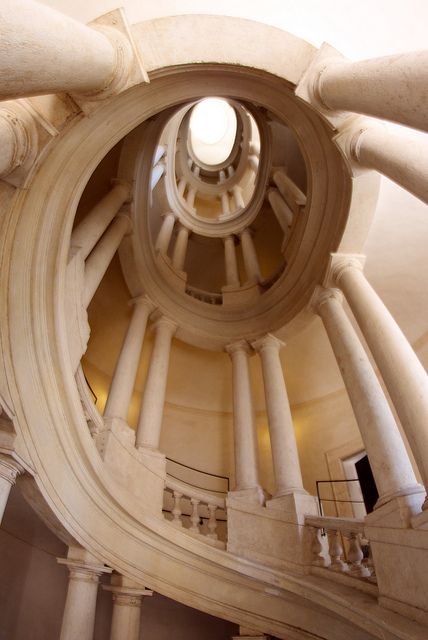 In the 1630s, Bernini designed

Palazzo Barberini

, which is now known as the

Galleria Nazionale d'Arte Antica

in Rome. Just outside the gallery is Bernini's

Fontana del Tritone

(1643), or Triton Fountain, in Piazza Barberini. The fountain bursts with life and vitality; four dolphins push up a large shell, which holds the robust sea king. Nearby, Bernini's smaller

Fontana delle Api

(1644) or Fountain of the Bees, has a seashell bearing an inscription and three bees. It was originally commissioned to be a water trough for horses.
Bernini's most striking fountain, under the order of Pope Innocent X, is the

Fontana dei Quattro Fiumi

(1651), or Fountain of the Four Rivers, which stands in Rome's stunning

Piazza Navona

. The fountain depicts four distinct gods, who represent the world's four major rivers, holding up an archway, where a tall Egyptian-style obelisk stands.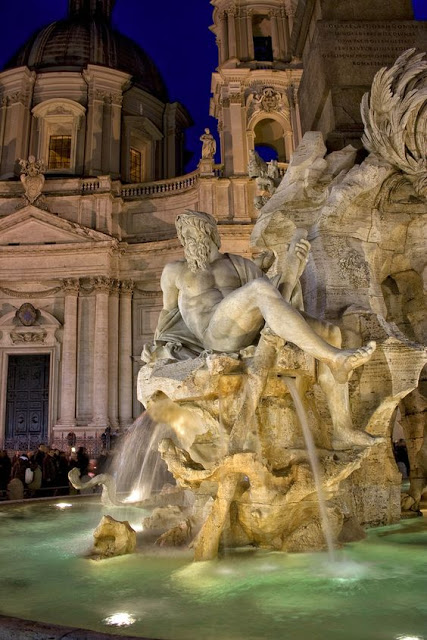 The obelisk theme shows up again in Bernini's later work. In Rome's
Piazza Minerva
, the
Obelisco della Minerva
(1667)
features his elaborate elephant statue holding up a sixth century BC obelisk.
Bernini's Tumultuous Progression in Architecture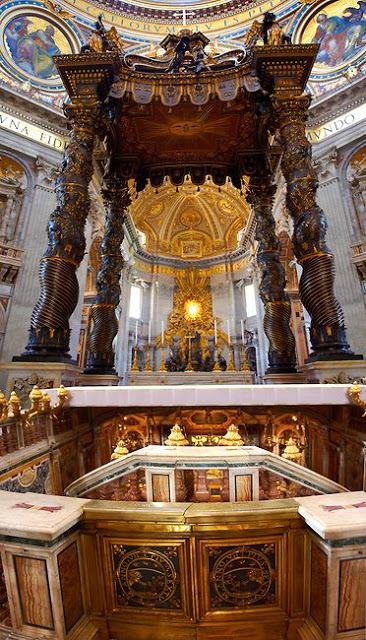 To enhance his architecture skills, Bernini worked on several churches in Rome. While he gained experience and prowess in architecture and design, he also gained more commissions. Bernini faced some fierce competition and had a rival in Rome's famed architect,
Francesco Borromini
.
In 1624, much to

Borromini

's despair, Bernini was chosen to design the intricate, gold b

aldachin

o, which c

over

s the high altar in Saint Peter'

s Basilica

. Bernini's baldachin is immensely tall and elaborate, with four decorated columns that twist upward and hold a glowing roof. With the reluctant help of Borromini, who had a duty to his church and state to assist the less experienced architect, Bernini worked on his baldachin from 1624 to 1633.
Between 1638 and 1649, Bernini designed the

confessio

, in the church of

Santa Francesca Romana

, near the Roman Forum. In 1647, three years after the death of Pope Urban VIII, Bernini created an ornate

tomb

for his dear friend and favorite patron. It rests near the baldachin in Saint Peter's Basilica.
Bernini was ordained an architectural task in 1638 beyond his experience level. Determined to top Michelangelo's dome of Saint Peter's Church and prove he could surpass his architectural rival, Borromini, Bernini attempted to build colossal bell towers on either side of the church. Built on soft ground, the first one cracked, causing damage to the church's main building. In 1646, the Pope ordered that the tower be demolished, a process which took months. A distraught Bernini had failed and was out of favor for the first time in his whole career. He became physically ill from the shame and despair.
Bernini's Boldness and Redemption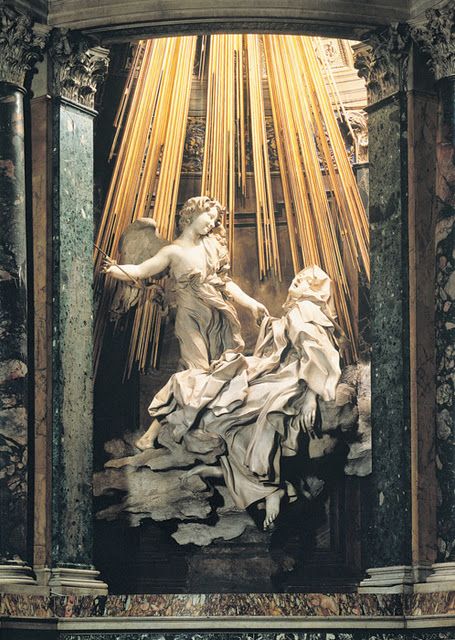 Bernini slowly recovered and became determined to gain back his reputation and prove not only that he was the master of sculpture, but also of architectural design. He surprised everyone by redeeming himself with the exquisite sculpture,
Ecstasy of Saint Teresa
(1652) in the golden chapel, which he also designed, in the church of
Santa Maria della Vittoria
. The work depicts the spiritual intoxication of Saint Teresa, as she is shot through the heart by an angel's arrow of divine love. A marble floor with a skull and dark colors symbolizes death below the saint. Death is contrasted by light piercing through the ceiling, which is Saint Teresa's welcome to the heavens above, and shining golden rods that illuminated her transcendence.
The exquisite chapel and ethereal sculpture redeemed Bernini in the eyes of the Catholic Church and saved his

reputation

. In the following centuries, the rapturous depiction of the saint would be noted for its orgasmic nature, as well as praised for its authentic expression of absolute devotion and euphoria.
Bernini's Grand Work after a Restored Reputation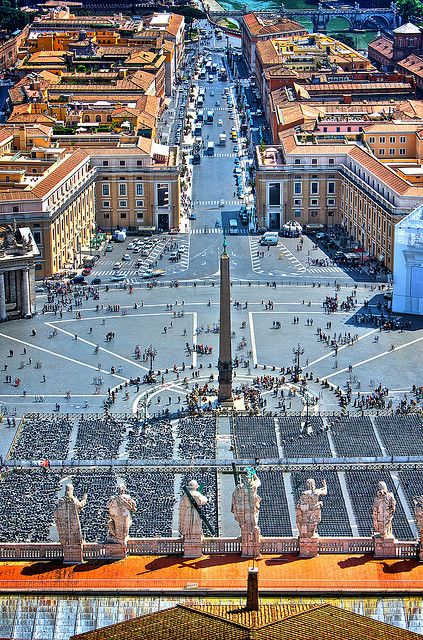 With a restored reputation, Bernini was requested to design
Piazza San Pietro
in the late 1650s. He added the impressive colonnade surrounding
Saint Peter
's Square that still stands today. This large circle of pristinely aligned pillars act as open arms, with the
piazza
as
the body and the domed
basilica
as the head, that welcome people into Saint Peter's Church. From 1657 to 1666, Bernini also worked on the bronze-coated
Throne of Saint
Peter
, or
Cathedra Petri
, behind his
baldachin
.
In 1658, Bernini was commissioned to design the church of

Sant

'

Andrea al Quirinale

(1658–1670). Around this time, he also modernized the church of

Santa Maria del Popolo

, which still showcases an original

Caravaggio painting

, to fit in with the popular Baroque style of architecture.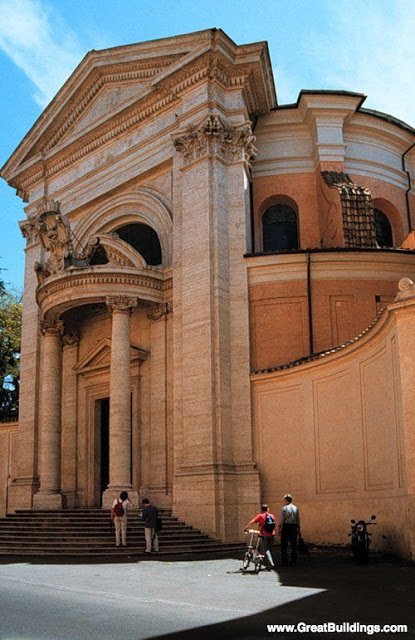 In 1669, Bernini was commissioned to adorn the

Ponte Sant

'

Angelo

, which leads to the mighty Castel Sant'Angelo by Pope Clement IX. Bernini added ten dazzlings angels along both sides of the bridge. The two angels sculpted by Bernini himself, Angel with the Scroll and Angel with the Crown of Thorns, were taken by the Pope and are now housed in the Church of

Sant

'

Andrea delle Fratte

near

Piazza Barberini

. They were replicated and replaced, while the other eight angels were carved by Bernini's students, who copied his designs.
In the 1670s, Bernini, now an old man, carved the lovely Blessed Ludovica Albertoni (1674) as she lies in ecstasy in the church,

San Francesco a Ripa

, in Rome's Trastevere neighborhood. If exploring Trastevere, read

A Day in Trastevere

to decide what else to see besides the church and Bernini's carving.
Multitalented Bernini in 
Theater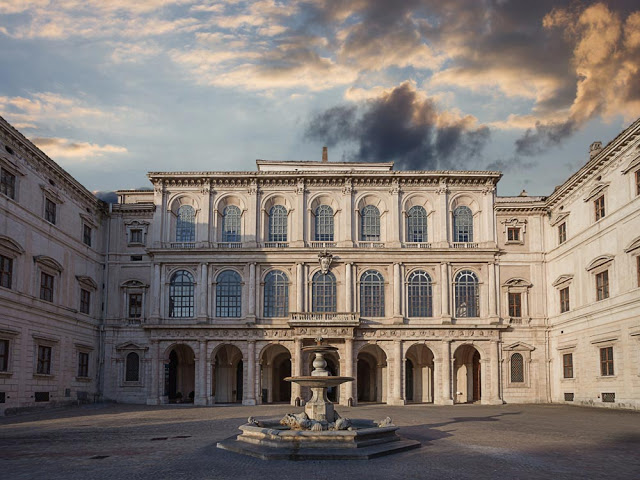 Along with sculpture and design, Bernini also dabbled in the world of theater. He wrote and directed plays at the Barberini Palace Theater in Rome and tried acting. Bernini's set designs and special effects, which were new and very modern for the time, where his most significant contributions to theater. Bernini would move floors, light controlled fires to destroy one set and reveal another, and let encroaching water threaten to flood the theater to evoke feelings of fear and excitement in the audience.
Bernini's Final Years and Legacy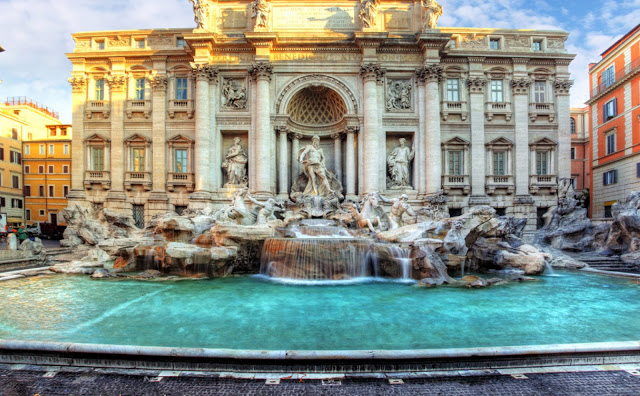 Bernini died in 1680 at the age of eighty-one after a long life and thriving artistic career. He created some of the most masterful art and design of the seventeenth century and propelled the art world into the more expressive Baroque style. With Bernini's death came the end of Italy's centuries-long succession of artistic geniuses from the Renaissance and Baroque eras. Luckily, Bernini's artistic work and legacy has been forever preserved in the sprawling streets, squares, churches, and buildings of Rome and the Vatican.
If you liked this article, read also "THE BEST LAKES TO VISIT NEAR ROME"