Italian Christmas Traditions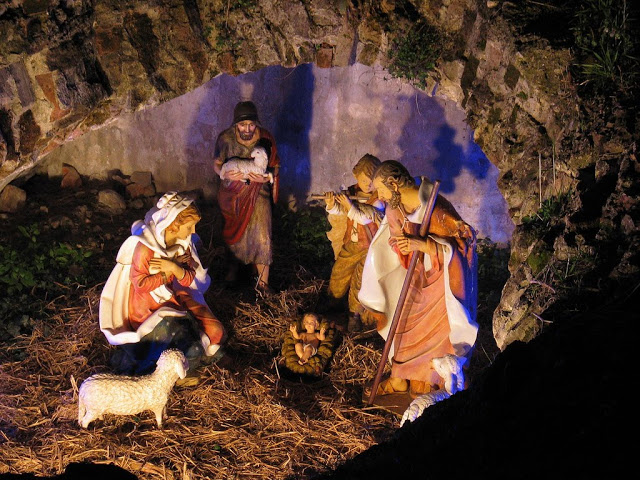 It is truly special to celebrate Christmas in a country where family, sharing, and warmth are already so important and ingrained in everyday life. Rich with Catholic traditions, Christmas in Italy is usually an intimate celebration filled with food, loved ones, and simplicity.
Unlike many countries where English is the native language, there is less of a focus on buying the perfect Christmas tree, writing all-encompassing wish lists, shopping for piles of gifts, and decorating neighborhoods with countless wreathes and lights. Instead, neighbors, friends, and families continue to spend quality time with each other. They prepare to cook and enjoy the typical Christmas dishes and sweets for days. Italians will exchange gifts, but no more than one or two each.
Also different from native English speaking countries, you will not hear a whisper of 'Buon Natale' until after December 8th, the day that the Christmas season in Italy emphatically begins. As autumn ends and winter begins, you will sense delightful hints of Christmas, but less in less obvious and extravagant way. Slowly, brought on by smells, sounds, and sights, they are beautifully subtle reminders of the true nature of the holiday. When walking around big cities and smaller towns, the Christmas spirit is present in the sweet aroma of roasting chestnuts on many street corners, the sound of church bells cheerily clanging, and the eventual evolution of Italian daily life into one that involves caroling, candles, Christmas markets, and holiday cheer.
Let Christmas Begin: The Day of Immaculate Conception
As a nationally recognized public holiday, December 8th, the day of Immaculate Conception, marks the official beginning of the Christmas season in Italy. Religiously this day celebrates Mary whose soul was decided to be immaculate and free from original sin.
December 8th is usually the day that towering Christmas trees are lit in the main 'piazze,' shopping areas and restaurants are illuminated with decorative lights, and Christmas markets appear in full swing. Every bakery and supermarket begins bursting with 'panettone' and 'pandoro,' Italy's two famously traditional Christmas cakes.
There are truly spectacular trees in
Florence
's Piazza del Duomo and outside the striking 'Duomo di Milano' in Milan. Decide which Roman tree you like best by admiring them throughout the city. There is one in Piazza Venezia, another in Piazza San Pietro, and a third in front of the
Colosseum
.
The Nine Days of Celebration: 'La Novena'
The nine days before Christmas, known as The Novena, mark the journey of the Wise Men to baby Jesus. Religious Italians do a lot of praying during this period. In more rural areas, Italian children may dress up as the Wise Men or other biblical characters. Then they go door to door caroling or reciting Christmas poems in exchange for some sweets or a few coins.
During the days leading up to Christmas, there are a lot of holiday performances in prized theaters of major Italian cities as well as in churches throughout Italy. In
Rome
, The Nutcracker at Teatro dell'Opera running from December 31st to January 7th will inspire. In any city or town, head to a local church to hear some traditional hymns and Christmas music.
Where to Eat and Shop: Christmas Markets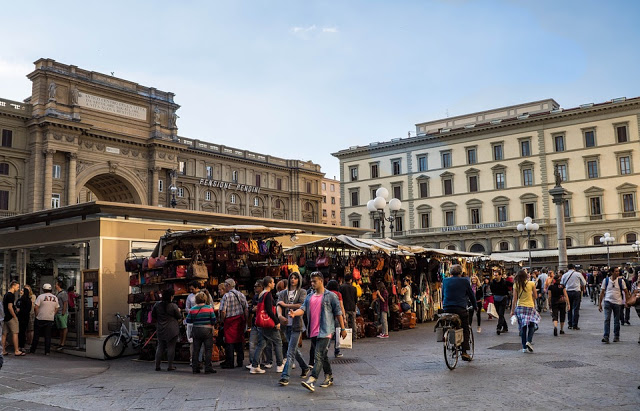 A favorite of visitors and Italians alike, Christmas Markets spring up in main squares of Italian cities at the beginning of December and usually continue through January. Go in the morning or afternoon to shop for artisanal Christmas gifts like handmade jewelry and Christmas figurines and to eat tasty Christmas themed 'biscotti' and other sweet treats. In the evening, warm your hands and sip on hot 'vin brulé' or mulled wine. Many Christmas markets in Italy are inspired by German markets. Market frequenters can enjoy both fresh Italian and German cuisine.
In
Florence
, walk around the German style market in 'Piazza di Santa Croce' where the stunningly white Gothic church is the backdrop for the hustle and bustle of the many wooden stalls selling crafts, sweets, and savory goods. Look out for live music performances.
For the most romantic experience, go to 'Piazza dei Signori' in Verona, the home of the fated lovers Romeo and Juliet, where the market is ethereally lined with star-shaped lights and atmospheric bars with cozy tables for two.
Rome
's
iconic 'Piazza Navona' holds the best Christmas market in the Eternal City. Along with
stalls selling handmade crafts and traditional Italian gifts, you can find vibrantly colored nativity scenes and lively street performers. Soak up the beauty of the piazza's grand surrounding architecture, which includes the Egyptian-style obelisk and captivating 'Fontana dei Quattro Fiumi' or the Fountain of the Four Rivers.
The Most Popular Decoration: 'I Presepi'
'I presepi' or nativity scenes are taken very seriously in Italy. Almost every church and many Italian households display them. Even bigger ones can be found in main areas of Italian cities.
Every year in
Rome
, the Pope oversees an impressive life-size nativity scene in front of 'La Basilica di San Pietro' in the
Vatican
. Also, 'Piazza del Popolo' in
Rome
hosts an exhibition of one hundred different 'presepi' from different areas of Italy and around the world. Some of baby Jesus's mangers are even made of pasta! Baby Jesus in every 'presepi' is always put in his manger on Christmas Eve. Typically, the Three Wise Men are moved closer to the manger as they search for him.
A City of Christmas Lights: Salerno
If enchanting Christmas lights are more your taste, head to Salerno, just south of
Naples
, which hosts the annual 'Le Luci d'Artista' or The Lights of Artists festival. Every Christmas season, the city organizes mesmerizing light installations in public squares and streets so visitors can enter a magical winter wonderland every evening after sunset.
Start at the 'Villa Comunale' public garden, where you can find a lovely light installation called 'Il Giardino Incantato' or The Enchanted Garden. There is also a month-long Christmas market in Salerno on the 'Lungomare Trieste' along the seafront.
An Alternative Way to Celebrate Christmas: Skiing and Snowboarding
Italy is full of glorious ski slopes in the Alps, Dolomites, and other smaller mountain resorts. Read more about the best places to ski and snowboard in Italy
here
. Celebrate Christmas with a thrill at 'Cortina d'Ampezzo' in the Dolomites where daring individuals welcome Christmas Day by skiing or snowboarding down the slopes carrying torches at midnight on Christmas Eve.
Fish and Festivities on Christmas Eve: 'La Vigilia'
According to Italians, Christmas Eve or 'La Vigilia' is the most important day of the Christmas period. At midnight in Rome on December 24th, church bells are rung throughout the city at the same time as cannons are fired from 'Castel Sant'Angelo' to celebrate the birth of baby Jesus.
On Christmas Eve, hundreds of people gather in a serene 'Piazza San Pietro' to hear the Pope's evening mass. The Pope will also ceremoniously lay baby Jesus down in his crib in the
Vatican
's
life-size 'presepe.'
Meat and Merrymaking on Christmas Day: 'Il Giorno di Natale'
If you miss the Pope on Christmas Eve, his mass can be witnessed again at midday on 'Natale' again in 'Piazza San Pietro.' To celebrate Jesus's birth, Italians kiss the hand or foot of a statue of baby Jesus as they exit the church at Christmas Day mass.
After what is thought of as a light dinner on Christmas Eve, Christmas Day is all about feasting. Italians cook a large lunch called 'cerone' of roasted meats, 'pasta in brodo' or pasta in broth, grilled vegetables, and the traditional Christmas cakes for a big group of friends and relatives. The cake 'panettone' is filled with nuts and candied fruits to symbolize the fertility of the new year ahead. Eating and merrymaking lasts the entire day.
Most Italian families exchange gifts on December 25th after they feast. Beliefs vary from family to family depending on what region of Italy they are from, but traditionally it was thought that Jesus, not Santa Claus, brings the gifts. However, nowadays many Italian families celebrate Christmas with gifts from 'Babbo Natale,' Italy's Father Christmas. Some families wait until the 'Epifania' or Epiphany on January 6th to exchange gifts. Many celebrate on both days.
Wrapped presents are not the only items exchanged on Christmas Day. Italian children write letters of love to their parents and wrap them like gifts. Parents unwrap them along with the other presents and read them aloud at the table.
Continued Eating and Enjoying with Loved Ones: 'Il Giorno di Santo Stefano'
Christmas celebrations continue the day after Christmas and, of course, so does the eating. The day after Christmas, 'Il Giorno di Santo Stefano' or Saint Stephen's Day is another public holiday in Italy, so many shops and restaurants are closed for this period.
After enjoying heaps of leftovers, Italians wrap up and go out with their families and friends. The streets become full of acquaintances wishing each other happy holidays. Many people visit their local church to see the nativity scene and make a small charitable donation.
A Friendly Witch Ends the Christmas Season: 'La Befana' on 'L'Epifania'
On the eve of Epiphany, on January 5th, Italians believe that an old lady, 'La Befana,' comes down their chimneys to fill the stockings of good children and give coal to naughty children. Similar to Santa Claus, families leave this friendly witch some milk and cookies or a glass or wine and a bite to eat. She flies around on a broomstick, except in
Venice
where she arrives by boat. The Befana is especially celebrated in
Rome
and Bologna where many main squares host fun events for children.
According to Italian legend, the Three Wise Men came to the Befana's house as they were searching for baby Jesus. When they asked her if she wanted to help, she declined claiming to be too busy with housework. After they had left, she changed her mind and she said to be still searching for baby Jesus to this day. This is why when she encounters good children, she gives them presents.
The Epiphany on January 6th marks the end of the Christmas season for Italians. On this day, the Three Wise Men arrived in Bethlehem and reached baby Jesus.