The Best Places to Ski and Snowboard in Italy
Besides the numerous evocative mountains with epic slopes, one of the most gratifying things about planning a ski trip to Italy is that even in ski resorts Italian culture is preserved. While basking in the natural glory of the prestigious Alps, northeastern Dolomites, or other smaller, more southern mountains, visitors can also partake in the wonderfully relaxed mentality, innate social lifestyle, and authentic flavors of Italy.

The best ski resorts are nestled in quaint, typically Italian villages surrounded by breathtaking peaks cloaked in white. Visitors will find fresh, piping hot 'pizze' and bowls of pasta ready to inhale after a full day on the slopes. Many Italians come in large groups of friends and family. Even in the mountains, they continue as they do at home with long, almost indulgent days fueled by espresso where the most value is placed on spending time with loved ones.

Together to end a vigorous day in the snow, they enjoy 'passegiate' or strolls before unwinding over a quality meal paired with warming red wine. If this does not sound enticing, the sunkissed, snow-laden Italian mountains also offer some of Europe's best opportunities for skiing and snowboarding.


Best for Steady Snowfall and Good Family Deals: Livigno
Near the Swiss border in the Lombardy area, Livigno, with its large selection of moderate slopes and modernized ski lifts, is ideal for beginners, intermediates, and families. In the heart of the Alps, every ski run is above 2,500 meters (8,200 feet) so snow is guaranteed throughout the season.

Not only does Livigno have duty-free status, it offers superb deals especially for families. In one deal, every first child under twelve-years-old who comes with two paying adults receives free accommodation, ski rental, ski school, and a ski pass. The second child gets this at half price.

One downside is the lack of nearby airports or major highways. Disappointingly Italian airports do not offer easy transport to Livigno. Transferring from Innsbruck in Austria may be the most convenient. Also, because of the resort's popularity, the slopes can feel crowded at peak times.



Best Vertical Drop and Natural Spa: Bormio
Close to Livigno is Bormio which was originally constructed as a spa resort town. The natural hot springs were frequented by Roman aristocracy for centuries. Now-a-days it continues to offer some of the finest natural thermal baths as well as excellent ski slopes for every ability level.

The small town, complete with a medieval town center and old-style churches, fountains, and 'piazze,' offers many nice restaurants and bars, comfortable hotels, and a cinema for easy socializing after a day on the slopes. There is a beginner area and a terrain park for freestyle riders, as well as more challenging runs ideal for confident intermediates and advanced skiers. These are often used for World Championship and World Cup races.

Roughly two miles long with a vertical drop of over 1,000 meters (3,300 feet), the most impressive is Pista Stelvio. As the largest vertical drop in Italy, this summit-to-base run is an absolute must for every skilled skier. In the Alps and close to the Swiss border, the only downside to Bormio is that it is quite inconvenient to get to. It is best to fly into Milan which is about 200 kilometers (125 miles) away and then travel by train or car to the mountain.


Best for the Chic Ski Experience: Cortina d'Ampezzo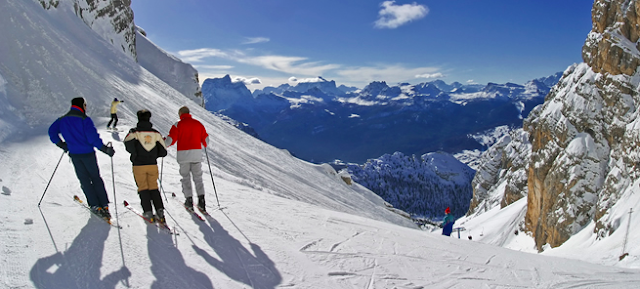 For a stylish ski experience, head to the 1,000-year-old town of Cortina d'Ampezzo in the Veneto region. This exquisite resort, in a sunlit valley and surrounded by the dramatic rising peaks of the Dolomites, hosted the 1956 Winter Games and still offers skiers those downhill race courses as well as other runs and cross-country trails. Cortina's main street, Corso Italia, is stacked with elegant restaurants and fashionable shops selling clothing, jewelry, and art.

The town is incredibly attractive and acts like any other non-resort town in Italy with many options for a lavish meal and easy access to busses and taxis. For the real luxury experience, stay in the over 100-year-old, five-star hotel, Cristallo which has been frequented by celebrities including Frank Sinatra.

Cortina d'Ampezzo is most easily reached from Venice, which is only two hours away. If being surrounded by people who are happy to dine, shop, and not ski, then Cortina is not for you. However, this does mean the slopes are often quite empty. There are not many challenging runs, so Cortina is not suited for advanced skiers. By Italian standards, a trip here is expensive and does tend to attract celebrities like George Clooney and Naomi Campbell.
Second Best for the Chic Experience: Madonna di Campiglio
Another fashionable and typically Italian ski destination is Madonna di Campiglio. Also located in the magnificent Dolomites, although the closest town is Verona not Venice, which is only two hours away. It is arguably less picturesque than Cortina, however it is still stunning. Visitors will find runs of varying difficulty, cross-country trails, and a terrain park that attracts snowboarders.

The town, with buildings from the 19th-century, is both quaint and upscale. Both high-end hotels and more affordable options are available. At night, the delightful restaurants and swanky bars come alive. The only real downsides are similar to those of Cortina d'Ampezzo.

The cost of a trip to Madonna di Campiglio is on the higher side. Also, if you clash with the idea of wearing designer ski wear by day and a stylish fur coat by night, it may not be the place for you.
Best for Off-Piste Skiing and Off-slope Socializing: Courmayeur
Shining brightly at the base of Mount Blanc, the highest mountain in Western Europe, Courmayeur is another fashionable resort offering a high-end ski town experience. Skiers can opt for organized, more manageable runs or some of the most beautiful and challenging offpiste skiing.

The famous Chamonix in France is only one breathe-taking cable car ride away. Courmayeur is less than two hours from Geneva or Turin airports and can also be easily accessed from Milan. The village is charming, with an old feel and winding, cobbled streets. It boasts exquisite dining, including food from Michelin-starred chef Heston Blumenthal, attractive bars, a lively social atmosphere, designer boutiques, and specialty shops.

There are areas for beginners near the top of the main lifts, however Courmayeur is better suited for intermediate skiers or above. Again, if you do not like being surrounded by people who come to the mountains to shop or party and not ski, then stick to the slopes or choose another destination.
Best for Border Crossing and Cruising: Cervinia
Sharing the prestigious Mounte Cervino, more commonly known as the Matterhorn, with Switzerland, Cervinia is one of the best places to ski across borders. Not only is Cervinia the highest pisted ski area in Europe, which means good snowfall, it also allows visitors to access miles of ski runs on both the Italian and Swiss sides from the same lift system making it one of the largest ski areas in the Alps.

Take note that passes are usually cheaper when bought in euros rather than Swiss francs. Enjoy the mostly easy to intermediate runs where you can cruise for long stretches above the tree line. Some runs are even at glacial altitudes. If you love Cervinia in the winter season, remember the glacier is open for summer skiing and snowboarding from June to September. It is most easily reached from Turin.

Cervinia is not the prettiest ski town, although it does have very agreeable hotels, restaurants, and cafes. The slopes are best suited for intermediates and under or for those who love an endurance challenge.
Best for Tuscan Travelers: Abetone
Believe it or not, the northern Apennines make it possible to ski in Tuscany. After a winter trip to Florence, head to Abetone where you can find the best slopes in Tuscany. The majestic Pistoiese Mountains offer over 50 kilometers (31 miles) of skiing with modern lifts and difficultly levels ranging from beginner to advanced. The slopes are pristine; glowing with fresh powder and lined by luscious dark green fir trees.

Nearby is the mesmerizing 'Val di Luce' or Valley of Light which contains several small lakes that freeze over in the winter season and reflect the sun rays for skiers to admire during the day. Abetone is most easily reached from Florence. The only drawback, and it is a subjective one, is that in Tuscany, skiers will not be experiencing the altitude and magnificence of Italy's Alps or Dolomites or their vast variety of runs. Also, do not come here to shop, you can do that in Florence!
Best for Families in Tuscany: Doganaccia di Cutigliano
Another fantastic ski area in the Pistoiese Mountains is Doganaccia di Cutigliano. These gentle slopes and proximity to bigger Tuscan towns like Florence, Pisa, and Siena make it an ideal place for families with children to enjoy the snow together.

There is a perfect child-sized amount of slopes available, about 10 kilometers (6 miles), and two ski schools for beginners. If the children are not loving their first ski experience, there is a snow tubing area which is guaranteed to put smiles on their faces. Go to the snow tube slope, equipped with a treadmill to bring the tubes back up the hill, and see how long it takes for the kids to beg to come back.

The smallness of this resort can be seen as a negative depending on how you look at it. Doganaccia di Cutigliano is much smaller than any other resorts discussed; there are only a handful of lodges and three beginner, five intermediate, and three advanced slopes.
Best for Roman Visitors: Campo Felice
Only about 120 kilometers (75 miles) away, Campo Felice is the biggest and best ski area closest to Rome. After witnessing the sheer splendor of the Colosseum, Pantheon, VaticanCity, and more and eaten your way through the Trastevere neighborhood and the nearby city of Naples, travel to Campo Felice by car or train. Located in the serene central Appenines in the province of Abruzzo, Campo Felice has slopes for every level, areas for children, and snow tubing.

With people avoiding the more esteemed, but often crowded northern resorts, Campo Felice is becoming more popular with southern and central Italians as well as foreigners. During warm years, sometimes there is too little snowfall, however Campo Felice is equipped with snowmaking machines that keep their slopes open all season. You will not find the high altitudes of the Alps or sharp peaks of the Dolomites here, but it is still packed with astounding views and ski opportunities.
Best for Daredevils Seeking the Most Unique Snow Experience: Etna
What hardcore winter athlete or bold spirit would not want to ski on Europe's tallest active volcano on the Italian island of Sicily? You can ski on both the north and south, but Etna Sud has more lifts and runs to offer than Etna Nord. Gliding down a living, breathing volcano that is alight with snow and looking across the sparkling blue sea makes skiing in Sicily absolutely unforgettable and unique.

Explore some of Italy's mainland, maybe Venice or Rome, and then fly into Sicily's Catania airport which is closest to Etna. Take the chance to see some Sicilian cities, like the capital city of Palermo, while you are there. Being in the south, the weather is much milder than the north. Also, ski passes are much cheaper than popular northern resorts.

To be completely fair, there are negatives when it comes to skiing in Sicily. Volcanic activity and intense weather, such as lightening storms, can shut down all skiing and snowboarding. The ski areas are much less expansive than those on the mainland. Etna has less variety and grandeur than the mainland's celebrated mountain ranges, however not many people can say they have skied on an active volcano and survived to tell the tale.


How to reach the slopes?
If you don't plan on renting a car while you are in Italy, not to worry, there are some bus services which you can take. A relatively new company called GoGoBus is a bus-sharing service which will get you to the base of the mountain in good time, at unbeatable rates.
GoGoBus also have routes from different city centers to the beach (during the summer months), as well as organizing transport for special events such as concerts and sporting matches. As it is a bus-sharing service, seats are limited and bookings must be made in advance.
We hope that you enjoyed reading about the Best Places to Ski and Snowboard in Italy.
Have you been to any of the places that we mentioned in this article? If so, please tell us what you think in the comments below!
Written by: Heeley Becky
If you liked this article, you can also read "5 Wondrous Ways To Add A Bit Of Christmas Magic To Your Italian Trip"