Activities in Rome for Frequent Visitors (aka Almost Locals)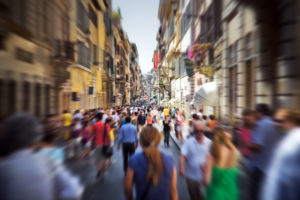 Have you have been to '
Roma
' more than a few times? Have you surveyed the spectacular views from the
Colosseum
, maybe even from the recently opened top tiers, admired the golden glow inside
St. Peter's Basilica
, and stopped to bathe in the glory of the Pantheon on your way to the daily
Campo dei Fiori
market more than the average person?
If so, you probably have a list of go-to restaurants in your favorite areas of the city and even a local 'bar' with a friendly barista who will greet you, make your usual drink, and ask where you have been for the last several months. You are someone who is between a tourist and a local.
If you visit Italy often and feel like a Roman at heart, keep reading for some exhilarating activities that are off the beaten path. With these suggestions you can continue to explore the food, art, music, culture, and 'la vita bella' in Rome. They also include some fun activities for children.
If you are a first time visitor, but prefer to avoid the crowds or are traveling with kids, this guide will work for you as well.
Food
The entire world knows that Italy takes food and cuisine very seriously. Eating according to Italian standards, not only is a way of life, it is an art. Therefore, instead of just eating your way through each region of Italy and neighborhood of Rome, why not learn how to cook like an Italian?
Cooking Classes in Rome
teaches
participants how to make an authentic four course Italian
meal. The five hour classes, including the time to enjoy the meal are led by Chef Andrea Consoli, a Roman local who has opened four restaurants with his family. He reveals the secrets of making true Roman 'antipasti' or appetizers, 'i primi piatti' or first courses, which usually consist of fresh pasta, 'i secondi piatti' or second courses, and 'i dolci' or desserts. The best part is that you get to eat your incredible meal with a table full of world travelers who probably love Rome just as much as you do.
Bonappetour
offers
a unique dining experiences in homes of locals who cook traditional,
scrumptious full course meals. Some of those hosts also offer cooking lessons. Each host and their food has been vetted, so you will not end up disappointed or overchared. Dining with locals gives you a peek into real Roman life, something you would not experience in a restaurant.
Just as important as food in Italy is wine, which is served and savored often. Take a wine tasting tour organized by Roman Candle Tours in
Castelli Romani
, just outside of Rome. This collection of thirteen hilltop villages with castles, a refreshing lake, which is full of swimmers and boats in the summer, and lots of luscious greenery has been a haven for city dwellers for centuries. The area is known for exquisite wines including the famous, deliciously light white wine, Frascati. Roman Candle Tours can organize a
private car
as transportation upon request.
Art
Not only is Rome overflowing with good food and wine and a lifestyle of taking time to eat, drink, and enjoy, it is full of thought-provoking exhibitions and live theatrical and musical performances.
Check to see if Palazzo degli Esami has a live art show while you are in Rome. In the past, this unique venue nestled in Trastevere near Porta Portense, hosted
Van Gogh Live
, a breath-taking visual experience with large scale, animated Van Gogh paintings.
Nearby in Testaccio is
MACRO Testaccio
, the Museum of Contemporary Art, which often has photography and interactive exhibitions.
If you like photography and want to improve your skills,
Rome Photography Workshop
can teach you how to shoot Rome's beautiful historical sites, magnificent architecture, and expansive parks like a professional. Some of their tours focus on shooting in the morning light versus the evening light, while others teach you about street or food photography.
Performance
Rome has a plethora of theaters offering a wide-range of delightful performances. The sophisticated
Teatro dell'Opera
with its 1920s interior, including a dazzling central chandelier and bold red velvet seats to match the stages's curtains, is Rome's most famous opera house. It also often holds ballet performances, some of which have included, Giselle, Don Quixote, Romeo and Juliet, and Sleeping Beauty.
For more opera, ballet, and dance performances, check out
Teatro Brancaccio
, which also has musicals such as Grease and Hairspray. Go to
Teatro Sistina
for more international musicals and musical performances, including shows like West Side Story.
The smaller, almost 300-year-old theatre,
Teatro Argentina
, declared the "Theater of Rome," focuses on dramas and musical performances including symphonies and operas. It is on the same street as 'Largo di Torre Argentina,' the archeological site of four ancient Roman temples and the Theater of Pompey, where Julius Caesar was believed to have been killed.
Music
Many of the theaters mentioned above host delightful classical and contemporary musical performances, but there are other venues for exceptional live music in Rome.
The
Auditorium Parco della Musica
is a large venue that hosts some of the best bigger concerts in the city, as well as theater performances, film events, and festivals in north Rome. The typical concerts vary widely from contemporary rock shows to classical Italian symphony orchestra performances. The auditorium also hosts Rome's annual Film Festival every October.
If you like jazz and cocktails, head to
Black Market
. With its modern speakeasy vibe, you will encounter fashionable Italians and visitors alike of all ages. Black Market has recently expanded and has two locations in Monti across the road from each other. Check their website for evening events with live music and art.
Young people tend to go to San Lorenzo at night for music. For techno, electronic, house, or funk, try
Ex-Dogana
, a warehouse space with a fresh, modern vibe. They also host nights with themes from popular fiction, especially from films, TV series, and bands.
Shopping
From artisanal shops to small boutiques, Rome's winding, lesser known streets are stacked with pristine shopping opportunities. Below find only a few suggestions.
Besides the fresh produce at the Campo de' Fiori market, shop at
Lela Casa
for lovely, aesthetic household goods with high-quality ceramics and textiles from various designers. Also nearby, is
Bec
, which stands for "Be Curious," an Italian boutique selling trendy accessories and clothes for women all of which are produced in Italy.
Close to the 'Cimitero Verano' cemetery near in the San Lorenzo neighborhood look out for both quirky and high-end boutiques.
Donatella Baroni
is a unique, chic, and affordable shop with one-of-a-kind cuts for fashionistas.
For real, handmade leather goods, including classic belts and beautiful bags, go to
La Sella
. They have over forty years of experience in the business and two locations; one by Piazza Navona and another by the Trevi Fountain.
Every weekend from September to June at the Grand Hotel Palatino,
Mercato Monti
also known as the "Urban Market" in the historic Monti area is open for visitors to view and purchase Italian made products from various creatives, artisans, and innovators. The market is open on Saturdays and Sundays from 10am to 8pm and entrance is free.
For English books, head to
Almost Corner Bookshop
in Trastevere. Though small, it has the most wonderful collection of carefully picked books, from up-to-date modern fiction to well-loved classics. They also have zany books perfect for gifts and a whole section of travel, historical, and fictional books that have something to do with Italy.
Adventuring
Would you like to witness Rome, as the Romans do daily, from the back of a scooter? Request a ride to a destination in Rome with
Scooterino
. Simply sign up with the app, request a driver, and hop on. You are always safe, because the drivers will always provide a helmet and before accepting the ride, you can read reviews about the driver.
Fun Activities for Kids
If you are bringing your children to Rome and they have already trekked around the archeological and historical sites with you, try some of the ideas below.
A perfect place for children to explore is the vast park that holds Villa Borghese. Not only can you and your children run around in some greenery, eat gelato, and rent bicycles or peddle boats, there is a zoo. Open daily from the late morning to early evening,
Bioparco di Roma
has a lovely collection of exotic cats, monkeys, birds, reptiles, and more. The zoo often hosts events including feedings and performances for children. You can also ride on the zoo's train the Bioparco Express to view the animals.
Rome's museum for children,
Explora
has an idyllic mission; to encourage children's exploration and learning and to stimulate their imaginations as well as those of their parents and the adults around them. With an exhibition pavilion, cooking lab, and outside picnic and playground area kids learn about a range of topics and skills including the environment, transportation, money, food, recycling, gardening, and teamwork. Guests must book one of the four daily slots, which are one our and forty-five minutes, Tuesday to Sunday. Reserve a museum visit and time in the cooking lab in advance. Explora is close to Piazza del Popolo.
Founded in 1958, another intriguing museum for children is
Museo delle Cere
, Rome's wax museum near Piazza Venezia. Here families can walk through a captivating series of famous people, both Italians and non-Italians who changed the shape of the world. Among others, you can see Napoleon Bonaparte, Leonardo da Vinci, Winston Churchill, Barrack Obama, and even Rome's football hero, Franceso Totti. Italy's beloved singer, Zucdiero Luciano Pavarotti is the most recent addition.
If you have a little historian or fighter with you, take them to
Rome's Gladiator School
which acts like a real school and instructs children and adults on how to become gladiators. Students learn the history of gladiators as well as receive practical training on movements, positions, and tactics. There are various levels at the school, so you and your children can continue to come back and advance your prowess! Classes tend to be two hours long and are offered daily. They can be experienced one time or on a weekly basis.
We hope you continue to experience and enjoy Rome every time you come back.
Written by Becky Heeley
If you liked this article, read also "A shopper's Guide To Italy"