Italy's Best Budget Island Trip: The Aegadian Islands
Resting in the Mediterranean sea on the

west

ern coast of Sicily, near Trapani and Marsala, are five mountainous islands known as the '

Isole Egadi

' or

Aedagdian Islands

. The group is made up of three main islands:

Favignana, Levanzo

, and

Marettimo

, and two minor islands: Maraone and Formica.
Travelers often pass over these lesser known gems for Italy's more celebrated

islands

. They usually opt for the country's biggest two:

Sicily

and

Sardinia

, the more luxurious islands, like Capri or Ponza, or the historically famous ones, such as Elba. Napoleon was exiled to Elba Island after being forced to renounce his French emperorship in 1814. Find out if he stayed on Elba for the rest of his days and learn more about these islands, by reading

Italy's Best Islands

.
Because the Aedagdian Islands often fly under the radar, their authentic charm, natural beauty, and inherent Italian culture have been preserved. They are perfect for travelers on a budget, because their secrecy means they are less expensive. Unlike islands like Capri and Ponza, which attract many luxury vacationers, affluent celebrities, and wealthy Italians, island hopping around the Aedagdians is absolutely affordable for budget travelers.
Arriving in Italy and Getting to the Islands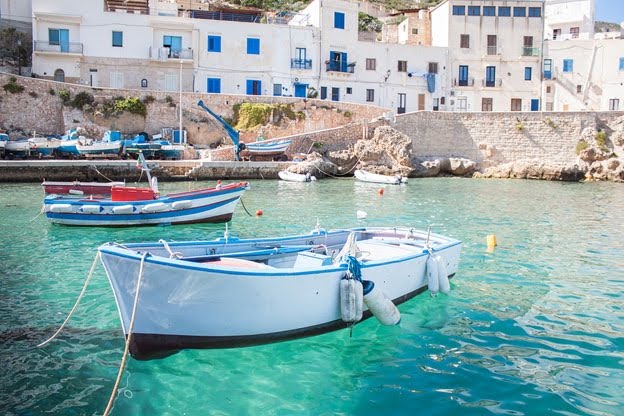 To save money on flights, book plane tickets months in advance. Use sites, like

Skyscanner

to compare and find the lowest prices. The islands' and Italy's peak season is the summer, so visiting in the early or late summer will be cheaper and less crowded than July or August. For warm weather and better prices, plan a trip in May, June, or September.
The closest airport is in Trapini. It is formally called '

Aeroporto Vincenzo Florio Trapani Birgi

' or

Vincenzo Florio Airport Trapani-Birgi (TPS

). The next best one is Palermo's airport, which is known as '

Aeroporto Falcone e Borsellino

' or

Falcone

–

Borsellino Airport

(PMO). Both airports host low cost airlines from many European cities. Check

Ryanair

's affordable flights to Trapini.
Shuttle buses run regularly from the Trapini airport to its port. One way tickets cost

€

7.50 and the journey takes about thirty minutes. Getting to Trapini from Palermo is a bit more tricky. From Palermo's main train station, 'Stazione Centrale,' travelers can take a combination of buses and trains to Trapini's airport or the port. Depending on the route, this trip takes five or six hours on public transportation. Book trains on

Trenitalia

in advance for cheaper prices. A car is not necessary for this trip, but if wanting to drive from Palermo to Trapini and explore Sicily along the way, read

Italy's Three Best Road Trips

for tips on renting a car in Italy and ideas for a Sicilian road trip.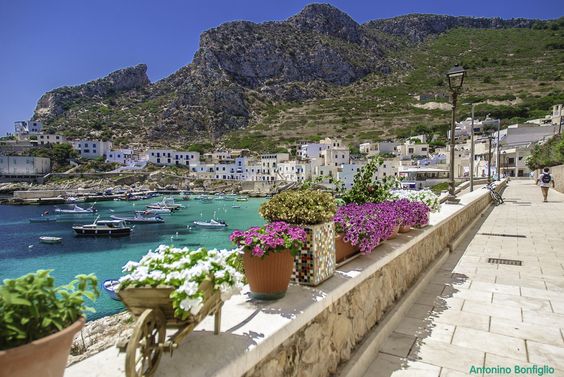 From the Trapini port, travelers can take a ferry or a faster type of boat called a hydrofoil to the three main islands. Buy tickets directly at the port or online in advance. During peak season, booking online at least a few days beforehand is cheaper. A boat ride from Trapini to the island of Favignana only takes twenty minutes and usually costs

€

13 one way. Check the schedule and prices on

Liberty Lines

.
Getting from Island to Island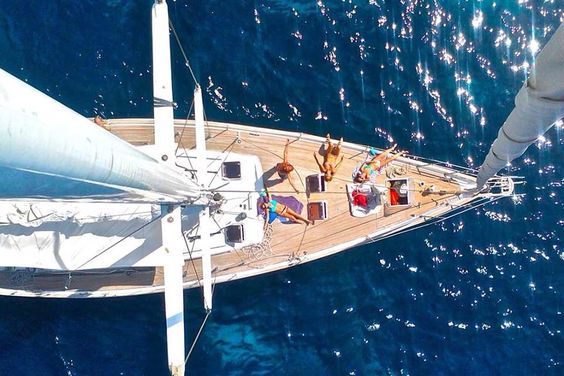 Most people go to

Favignana

first, as it is the largest and most inhabited of the islands, making it the easiest to stay on and island hop from. Accommodation, even the nicer hotels, is generally quite affordable on the islands, so this allows budget travelers to spend more on ferry and boat rides between islands. These services can get competitive, so take advantage and look for the cheapest ferry and hydrofoil prices at hotels or posted at ports.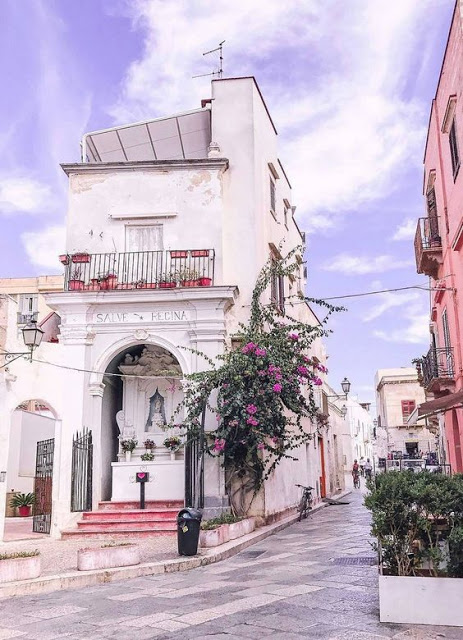 Booking accommodation in advance, will save you money. Definitely book ahead of time if going to the islands during high tourist season, because the small islands' limited hotels, bed and breakfasts, and holiday rentals fill up quickly. Most of the

Aedagdian Island

s' accommodation is on

Favignana

, although the two other bigger islands,

Levanzo and Marettimo

, have a few small hotel and bed and breakfast options.
Check

Airbnb

for fairly priced private apartments or rooms to rent. Find affordable apartments, B&Bs, and holiday homes on

booking.com

. The lower end of these prices range from

€

30 to

€

50 per night.
Budget Eating and Drinking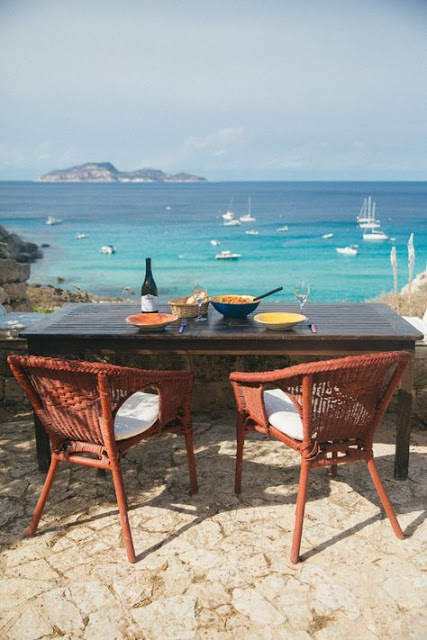 Dining on the

Aedagdian Islands

does not have to be expensive. Although there are some pricier seafood restaurants, travelers will also find cheap, cheerful, and delicious local spots. Enjoy the fish, like 'calamari' or fried squid, and pasta dishes, such as 'p

asta con le sarde

' or pasta tossed with sardines. Offering lots of fresh fish, vegetables, and fruits, the islands' cuisine is very similar to Sicily's. Read more about

The Best of Southern Italian Cuisine By Region

, including Sicily.
Obviously, travelers who book accommodation with a kitchen save money by buying ingredients and cooking meals. Guests at B&Bs and hotels can spend less when staying in places where breakfast is provided. Generally, since the islands are inhabited by local people and have not been turned into huge tourist resorts, budget travelers can definitely spend less than

€

20 a day on food.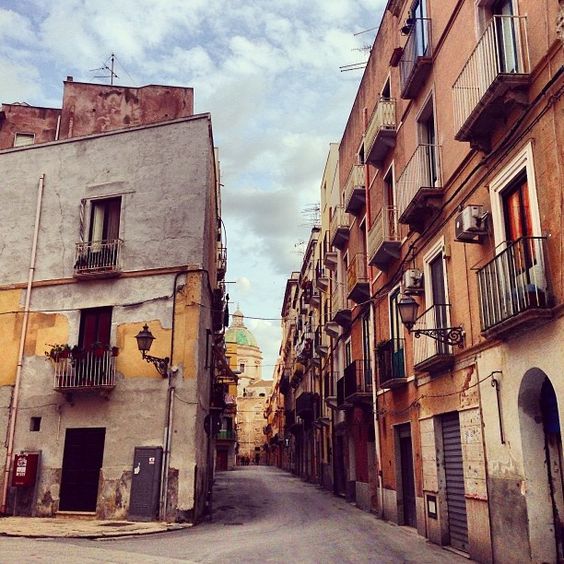 Never costing more than

€

4, the typical Italian breakfast of a '

cappuccino

,' coffee with steamed milk, and a sweet pastry is even cheaper when consumed while standing at the bar along with the Italian locals. When eating lunch out, be like the Italians and eat more, because lunch is their main meal. Otherwise, shop at the local market or supermarket for 'panino' or sandwich ingredients to take to the beach. Street food, like 'panini' and 'arancine,' or fried rice balls stuffed with meat or mozzarella and tomatoes, is also very affordable.
Affordable Activities and Attractions on Each Island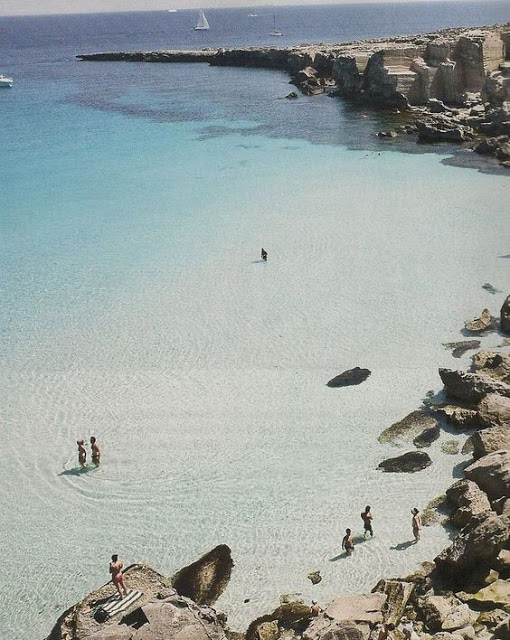 If sunbathing, swimming, boating, relaxing, and eating fresh Italian food sounds like the perfect budget holiday, definitely go to the Aedagdian Islands. Although the islands are smaller than others in Italy and have fewer beaches, their natural essence has remained intact, giving off the impression that each rock and mountain has been untouched for centuries. Animals, especially sea life, and fauna flourish. The exquisite beaches offer a range of activities, from snorkeling and diving to tanning and reading on the sand. There are also some epic hikes on some of the islands, as well as tiny town centers to explore. If it is in budget, rent a scooter and zoom around each little island.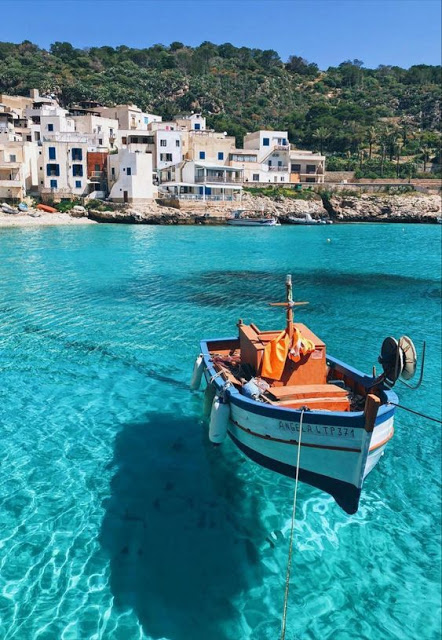 Locals coined Favignana 'La Farfalla' or The Butterfly because of its delicate shape. It is the largest of the

Aedagdian Islands

and about eighteen kilometers from Sicily. The island's most beautiful and famous beach, with bright white sand dotted with rocks and an equally bright turquoise sea, is '

Cala Rossa

' or Red Cove. Cala Rossa was named after the blood that was shed in the bay when the Romans sunk Carthaginian ships to gain a critical victory in the Punic Wars, which raged from 264 BC to 146 BC. '

Lido Burrone

' and '

Cala Azzurra

' or Blue Cove are two, more accessible beaches. They have fewer rocks and no trek down to the shore.
There are several mesmerizing sea caves for experienced scuba divers to explore, including '

Grotta degli Innamorati

' or Lovers' Cave, '

Grotta Azzurra

' or Blue Cave, and the '

Grotta dei Sospiri

' or Cave of Sighs, which was named because it is said to whisper in winter.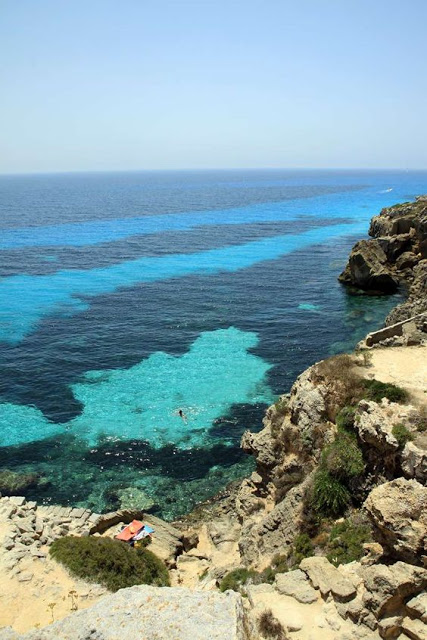 Besides the beaches and caves, the islands is made up of the mountain '

Monte Caterina

,' which gives it a rocky terrain. In town, explore the tower of '

Santa Caterina

' and the two main piazzas, which often host fresh produce markets in the mornings.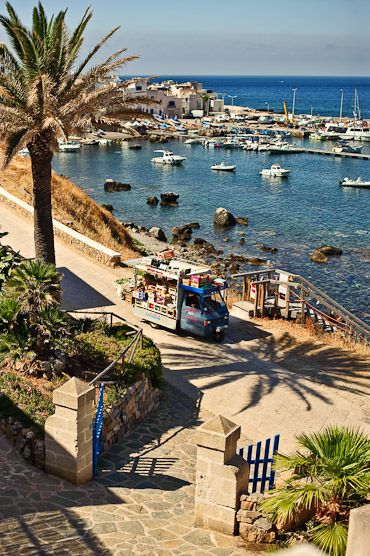 Although

Marettimo

is the second largest of the islands, it is the farthest away from Sicily, making it the most remote, as well as the best preserved. For the ancient Greeks, Marettimo would have been ancient Ithica and the land of Odysseus. Utterly peaceful, with lots of naturally occurring Aleppo pine trees and kilometers of open sea, the island is the home of many bird species. Because the island only has one main beach, which has more pebbles than sand, the most popular attraction is the hiking and birdwatching. There are many easily recognizable paths among the pines that crisscross the island. Previous deforestation has been stopped, allowing the island's habitat to recover, including the population of the rare

Bonelli

's eagle and different types of falcons.
After hiking and spotting birds, eat the freshly caught fish at the selection of reasonably priced restaurants on Marettimo. The island is inhabited by fishermen and their families, who work hard to keep the island as it is: a beautiful, natural oasis surrounded by a bountiful sea. There are no cars on the island and only one or two hotels and B&Bs. Although locals would like their island to remain unscathed by tourism, they are friendly to tourists, especially those who make an effort to admire their idyllic island home. The town, with only about 300 year-round inhabitants, is made up of white painted houses that practically fall into the glowing blue sea.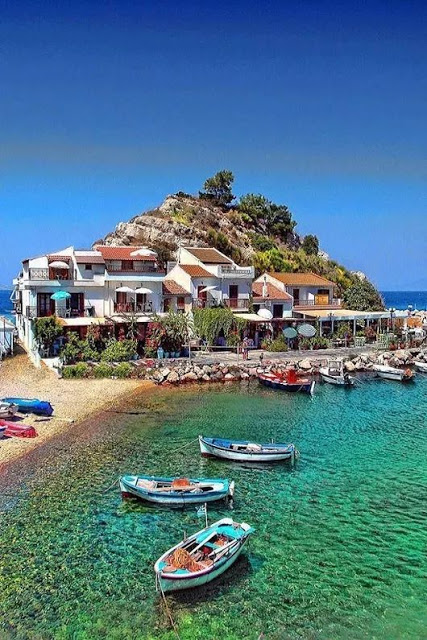 Even more hilly and rocky than Favignana, Levanzo is the third largest of the Aedagdian Islands. It is the second most visited of the group, after Favignana. The rustic islands only village is '

Cala Dogana

,' which only has a handful of residents and two or three shops, hotels, and restaurants. What this island is lacking in size, it makes up for in dramatics. The stunning peak called '

Pizzo del Monaco

' almost reaches 300 meters high. Levano has less crowded beaches than Favignana. Try '

Cala del Genovese,

' '

Punta di Sorci,

' and '

Cala Tramontana

.' The beaches have soft sand, perfect for sunbathing and relaxing. Enter '

Grotta dei Genovesi

' to see prehistoric cave drawings, which document the ancient, otherwise undocumented parts of island life, such as fishing, foraging, and farming.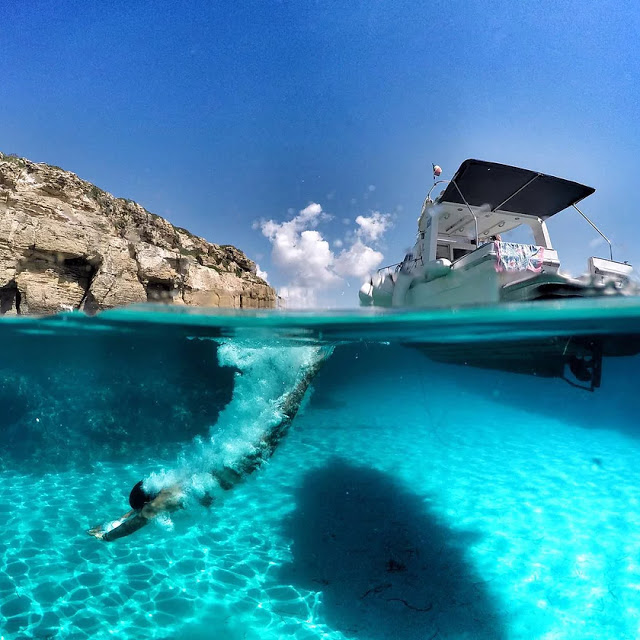 The two minor islands, Maraone and Formica, in the Aedagdian group pop up between

Levanzo

and Sicily. The larger of the two, Maraone, is abandoned and wild. Over the centuries, it has become a place for items to be stored, including artifacts from ancient Greek and Roman times. Formica is the smallest of all the Aedagdian Islands. It has a lighthouse that is still intact and abandoned fishermen barracks, which date back to its strong history of tuna fishing. To stay on budget, visit the other three islands, not these.
For budget travelers who are planning on exploring other parts of Italy before or after visiting the Aedagdian Islands, read about budget travel to

Tuscany

,

Sorrento and the Amalfi Coast

, and

Venice

for inspiration and money saving tips.
Remember to relax in paradise and please let us at

Roman Candle Tours

know of any helpful money saving tips discovered along the way to guarantee an amazing trip to the Aegadian Islands.